Rosemary essential oil is one of the most popular and powerful oils on the market. It is extracted from the herb rosemary also called Rosmarinus officinalis.

For thousands of years, rosemary has been used to soothe digestive issues, improve memory, and relieve muscle pains and aches. Today, rosemary oil has become a popular ingredient for hair and skin products due to its antiseptic properties.
This herb is used widely in aromatherapy as its stimulant properties refresh, rejuvenate and help you feel energized. Here's how this fragrant herb can benefit your skin & Hair
Natural Toner for Face
Rosemary oil contains properties of a natural astringent. It soothes your skin, treat blemishes and hydrate it within. With regular usage of this oil, your skin will become soft and radiant naturally. It will also help cure redness and irritation of your skin. Wash your face and use a cotton ball to apply the oil onto your face. Wait for 15-20 minutes before you wash your face with lukewarm water, so your skin can absorb the nutrients of the oil.
Treats acne
Acne is too annoying, isn't it? With rosemary's powerful disinfectant and antibiotic properties, the herb can help to treat acne and oily skin conditions. When massaged into the face, rosemary oil can help lightens dark spots and blemishes on the skin resulting in an improved skin complexion.
Mix rosemary oil with a carrier oil such as castor oil and massage it gently onto your face for about 10 minutes. Rinse off your face with warm water. Repeat this process for 3-4 days a week and you are sure to have flawless and healthy skin.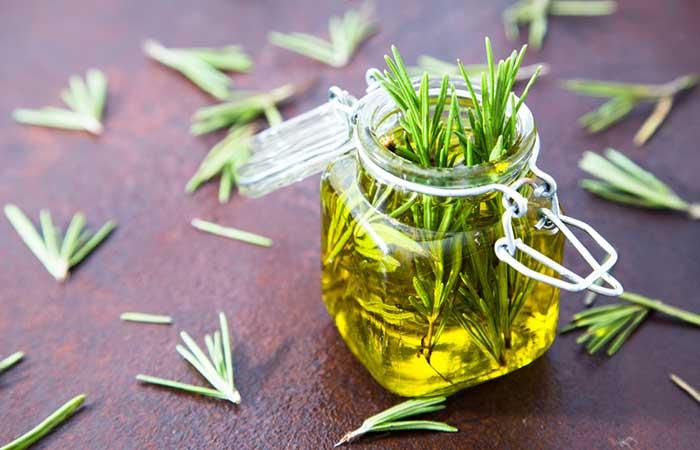 Prevents ageing of skin
Rosemary contains naturally powerful antioxidants, it strengthens the capillaries and helps to slow the effects of ageing on skin. It also tightens sagging and loose skin to help it look firmer and more elastic. Additionally, rosemary stimulates biological activity and cell growth to reduce fine lines and wrinkles
Unclogs Blocked Pores
Rosemary essential oil is a great essential oil for relieving congestion including skin congestion. It helps gently detox congested skin by purifying it from deep within the pores and driving out stale sebum, dead cells, dirt, grime, pollution, germs and other impurities. Its skin de-congesting properties make it an excellent essential oil for warding off blackheads and white heads (caused by dirt, excess oils and dead cells) that normally block pores.
Make a simple pore cleansing scrub by combining 1 tbsp of colloidal oatmeal, 1 tsp raw honey and 2 drops of rosemary oil. Scrub this mixture onto your face to clear out clogged pores!
Gets Rid of Under Eye Bags
Rosemary essential oil eases congestion & fluid retention. It also acts as a diuretic that drives out excess fluid that causes swelling and puffiness.A great under eye bag reducing recipe is mixing 2 drops of rosemary in 1 tsp of aloe vera gel. Apply this gently to your eye bags right after washing your face in the morning to reduce puffiness.
Prevents skin infection
Rosemary essential oil helps heal and soothe eczema, and other inflammatory skin conditions such as psoriasis, rosacea and rashes due to its powerful anti-inflammatory properties as well as its antibacterial properties that keep skin free from germs and other irritants that further aggravate eczema.
Combine rosemary oil in something soothing like shea butter or coconut oil and use it as a moisturizer for itchy and flaky eczema patches.
Clears Cellulite
Another amazing benefit of rosemary essential oil for skin is it helps clear cellulite! It is widely known as an excellent circulatory stimulant and it helps clear cellulite by stimulating flow of wastes and toxins, that can clump up and form cellulite.
Add a few drops of rosemary essential oil to your sugar scrub and scrub your cellulite away!
Rosemary Oil for Hair Growth
In addition to its health and skin benefits, rosemary essential oil is also known to promote hair growth and thickness. It can be used with carrier oils like coconut, olive or almond oils for maximum benefits. It stimulates hair follicles boosting strength and overall growth of your hairs. It also fights early appearance of gray hair. Using rosemary oil on a regular basis makes your hair soft and manageable. Thus, it is a great natural conditioner .
Treat Dandruff
The oil has excellent anti-fungal properties that effectively cleanse the white flakes and nourishes the scalp. Just pour down a few drops of rosemary oil in your shampoo and conditioner and you are all sorted. Did I say this oil also treat frizzy strands?
In summary, rosemary essential oil offers several benefits for your skin and hair. However, there are precautions to take with rosemary essential oil. It should never be consumed orally or used on children under four years of age and should not be used in cases of epilepsy, hypertension or pregnancy.
So why not Relish in the natural goodness of this amazing oil.