Eating a smart breakfast leads to healthier choices all day long. It can prevent you from overeating late in the day and keep you energized as well. However, most of us tend to skip this important meal because of how hectic and busy we get before we leave for work or school. But with these quick and healthy choices, you won't think twice about skipping the most important meal of the day.
Nutty Berry Smoothie
Blend 1/2 cup 1% low-fat milk, 1/2 medium ripe banana, 1 tablespoon creamy peanut or nut butter, 1 cup fresh or frozen raspberries, and 1/2 cup crushed ice. (262 calories)
+ Coffee with 2 tablespoons 1% milk (13 calories)
Total: CALORIES 275 FAT 10.5 (sat 2.7g, mono 4.4g, poly 2.8g); PROTEIN 11g; CARB 39g; FIBER 10g; SUGAR 22g; ADDED SUGAR 0; CHOL 8mg; IRON 1mg SODIUM 142mg CALC 231mg
Triple Chocolate Muffins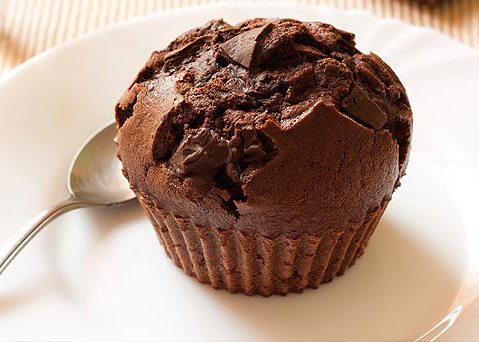 Ingredients
3 tablespoons unsalted butter, diced

1 1/2 ounces 60% bittersweet chocolate, finely chopped

9 ounces all-purpose flour (about 2 cups)

1/3 cup unsweetened cocoa

2 teaspoons baking powder

1/4 teaspoon salt

1/8 teaspoon baking soda

2/3 cup granulated sugar

2/3 cup 2% reduced-fat milk

1/2 teaspoon vanilla extract

2 large eggs, lightly beaten

1/2 cup semisweet chocolate chips

3 tablespoons powdered sugar (optional)

How to Make It
1. Preheat oven to 425°.
2. Combine butter and bittersweet chocolate in a small microwave-safe bowl. Microwave at HIGH 45 seconds, stirring every 15 seconds. Stir until smooth. Cool to room temperature.
3. Weigh or lightly spoon flour into dry measuring cups; level with a knife. Combine flour and next 4 ingredients (through baking soda) in a large bowl; stir well with a whisk.
4. Combine granulated sugar, milk, vanilla, and eggs in a bowl; stir with a whisk until well combined.
5. Add butter mixture and milk mixture to flour mixture, stirring just until combined. Gently stir in chocolate chips. Divide batter evenly among 12 lined muffin cups. Bake at 425° for 5 minutes. Reduce oven temperature to 375° (do not remove muffins from oven). Bake at 375° for 10 minutes or until a wooden pick inserted in center comes out with moist crumbs clinging. Cool in pan on a wire rack 5 minutes. Remove from pan; cool completely on wire rack. Sprinkle with powdered sugar, if desired.
Cereal Milk Bars
Ingredients
1/4 cup unsalted butter

10 ounce marshmallows

4 ounces white chocolate, finely chopped

3 tablespoons nonfat dry milk

5 cups Multi Grain Cheerios

1 cup freeze-dried strawberries, chopped

Cooking spray

How to Make It
Melt butter in a large saucepan over low heat. Add marshmallows and chocolate; cook 7 minutes or until mixture melts, stirring constantly. Stir in dry milk, cereal, and strawberries. Press mixture into a 13 x 9-inch glass or ceramic baking dish coated with cooking spray; refrigerate 10 minutes or until set. Cut into 20 bars.
Berry, Cream and Overnight Oats Smoothie
This overnight oat smoothie is everything you love about breakfast rolled into one delicious and healthy cup. Did you know that in order for your body to absorb all the nutrients from flax seeds they must be ground, not whole? This breakfast smoothie is high in protein, nutrients, and tastes even better than it looks.
1/4 cup old-fashioned rolled oats + 1/2 cup original, unsweetened almond milk + 1/2 cup frozen blackberries + 1/2 cup frozen blueberries + 1/2 cup fresh diced strawberries + 1 teaspoon ground flax seed + 2 teaspoon honey
SERVES 2 (7 oz. serving)
137 CALORIES
Mini Frittatas with Ham and Cheese
Bake these bite-sized frittatas in a miniature muffin pan for a savory breakfast treat. They taste great hot or at room temperature, so you can make them in advance.
Ingredients
Cooking spray

1/2 cup finely chopped onion

2/3 cup chopped reduced-fat ham (about 2 ounces)

1/3 cup (about 1 1/2 ounces) shredded reduced-fat extra-sharp cheddar cheese

2 tablespoons chopped fresh chives

1/8 teaspoon dried thyme

1/8 teaspoon black pepper

4 large egg whites

1 large egg

How to Make it
1. Preheat oven to 350°.
2. Heat a large nonstick skillet coated with cooking spray over medium-high heat. Add onion; sauté 2 minutes or until crisp-tender. Add ham; sauté 3 minutes. Remove from heat; cool 5 minutes. Combine remaining ingredients in a large bowl; stir with a whisk. Add ham mixture, stirring with a whisk. Spoon mixture into 24 miniature muffin cups coated with cooking spray. Bake at 350° for 20 minutes or until set.
Honeyed Yogurt and Mixed Berries with Whole-Grain Waffles
As you enjoy this meal on the go, you also enjoy antioxidants, fiber, and vitamin C from the berries; protein and calcium from the yogurt; and protein, fiber, and B vitamins from the waffles. Prepare this sweet and satisfying breakfast before you leave the house and give a delicious start to your day—no matter where it will take you.
Ingredients
2 cups vanilla low-fat yogurt

2 tablespoons honey

2 cups fresh raspberries

1 cup quartered small strawberries

1 cup fresh blackberries

1/3 cup sugar

2 tablespoons fresh lemon juice

4 frozen whole-grain waffles, toasted

4 teaspoons toasted wheat germ

How to Make It
1. Drain yogurt in a fine sieve or colander lined with cheesecloth for 10 minutes; spoon into a bowl. Add honey, stirring to combine.
2. Combine berries, sugar, and juice; let stand 5 minutes. Place 1 waffle on each of 4 plates; top each serving with 1 cup fruit mixture, about 1/3 cup yogurt mixture, and 1 teaspoon wheat germ. Serve immediately.
Quick Breakfast Burritos
An easy breakfast to take on the road. A full breakfast wrapped up in a nice neat little package – and it tastes delicious too!
Ingredients
1/4 teaspoon chopped fresh oregano

1/8 teaspoon salt

1/8 teaspoon black pepper

3 eggs, lightly beaten

3 egg whites, lightly beaten

4 (7 1/2-inch) 96% fat-free whole-wheat flour tortillas

Cooking spray

1/4 cup finely chopped onion

1 cup (4 ounces) preshredded cheese

1 cup fresh salsa

How to Make It
1. Combine first 5 ingredients in a bowl, stirring with a whisk. Heat tortillas according to package directions; keep warm.
2. Heat a large nonstick skillet over medium heat. Coat pan with cooking spray. Add egg mixture and onion to pan. Cook, without stirring, 2 minutes or until mixture sets on bottom. Draw a spatula across bottom of pan to form curds. (Do not stir constantly.) Cook 2 minutes or until egg mixture is thickened, but still moist. Remove from heat.
3. Divide egg mixture evenly among warm tortillas. Top with 1/4 cup cheese and 1/4 cup salsa. Fold opposite sides of tortillas over filling; roll up. Serve immediately.