There's one thing we can (probably) all agree on: Having kids is pretty freaking awesome. But that doesn't mean those little humans running around are always easy on your marriage—they change things, plain and simple. Raising kids is no joke, and it can challenge your ability to put your partner first.

It's not uncommon for your relationship to get placed on the back burner after kids enter the picture, the dynamic in a marriage changes drastically because your priorities shift from yourself and your spouse to your child.
One study published in the Journal of Personality and Social Psychology found that the rate of decline in relationship satisfaction is nearly twice as steep for couples who have kids than those who are childless.
Balancing being a parent with being romantic partners is not easy, many couples struggle with finding a way to have it all. We all understand that having a child is such a powerful experience, and a couple can forget what brought them together in the first place — their love and affection for each other before their kids existed. But the best gift you can give your children is to have a happy marriage.
Here are her tips for getting back on track -- and staying there:
Do something simple and romantic every day, well it sounds easy but odds are most of us are not doing this now. It's the little things that make a big difference in a marriage. Keep it simple like a lengthy hug, loving kiss or writing a love note or just taking the time to make coffee for your spouse in the morning to make them feel loved and appreciated. Help each other with house chores. The goal is to appreciate the small ways you both take care of your family. So Never stop appreciating each other!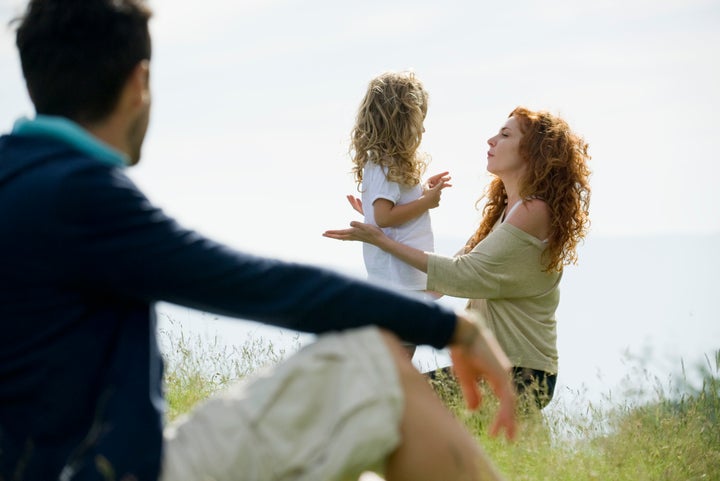 Take break from your electronic gadgets during those few and precious kid-free time you get. It only becomes problematic when the technology cuts into quality time, too many couples go out for date night and spend the entire evening on their smartphones, checking in with work or updating their Facebook status. Instead use this quality time to talk to your significant other about what you love about your relationship now and where there's room for improvement — and actually listening to each other and doing something about it.
Every couple fights -- even happy ones. "it's how you fight that's important," It's important to maintain a sense of humor even when arguing, and never say anything that's personally disparaging to your partner. This is especially important if you're arguing in front of your children. Its fine to disagree, but you need to make sure you're not too confrontational or negative. Touching or laughing during a fight helps keep things from escalating.
Make your romantic love as important as your parental love, It's not about choosing one over the other, instead to build a culture in your family where your connection with your partner is seen as just as important as your connection with your kids. Keeping the marital relationship front and center can go a long way towards overall balance. And try show affection in front of your kids too.
We all need to figure out for ourselves what we need to keep our marriages nourished and then figure out how to get as much of things done together to make it happen. Always consider the importance of putting your relationship first. If you do, everyone wins. Remember good parents are good romantic partners.